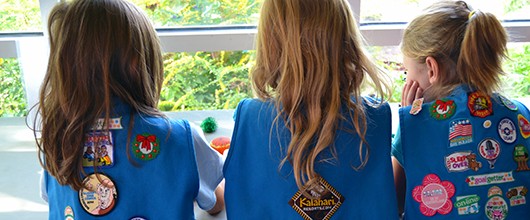 Council Patches
Earn Badgerland Council Patches
Girls are able to connect with their community on a whole new level through council patch programs!

31 Random Acts of Kindness
We're challenging Badgerland Girl Scouts to do a good turn daily for the month of October. Why October? Because our founder Juliette Gordon Low's birthday was October 31!

MAD 4 Science
Badgerland is going MAD (Make A Difference) for science! Girls will become citizen scientists to earn the patch. A citizen scientist is a volunteer who helps professional scientists answer big questions about the world. Girl Scout citizen scientists will do research, collect data, then share it with the scientific community.


Girl Scout Makers
Makers create, build, design and engineer amazing things every day. Girl Scout Makers will learn to use technology to make a difference. Makers kits are available for check-out at all Badgerland Service Centers. Each kit includes all the pieces your girls need to complete the steps to earn the patch along with simple instructions and an Adult Learning Guide. Girls do not need to be in a certain level to earn that patch. For example, a Junior troop could earn the Brownie and Junior Makers patches.
Daisy Makers kit: Buttons and switches are at your fingertips with Snap Circuits Extreme.
Brownie Makers kit: Use littleBits to create your own amazing invention.

Junior Makers kit: Click blocks of code together like Legos to program a tiny computer.

Cadette Makers kit: Ready to write your own code? Follow along with Super Awesome Sylvia.

Senior Makers kit: Write the soundtrack of your life with a computer the size of a library card.
Ambassador Makers kit: Code, create and test your own Android app.
Check-Out Form | $30 deposit for each kit

STEM Sisterhood
This is an amazing opportunity for girls to connect with women experts in STEM fields and inspire girls to peruse their dreams. Research and interview a woman in a STEM field in your community, invite her to join you in a hands-on project that teaches you all about her field of expertise, then submit her story and a photo of you from your time learning together.

Inspiration Project Patch Program
for Daisies, Brownies and Juniors
Work together as a troop, with friends and family to inspire our communities with exciting take action or community service projects throughout Badgerland!