Silver Award Girl Scouts
When Girl Scout Cadettes focus on an issue they care about, learn the facts, and take action to make a difference, they gain the confidence and skills that will catapult them to lifelong success. It all adds up to the Girl Scout Silver Award—the highest honor a Cadette can achieve.  Download the Silver Award guidelines to find out how.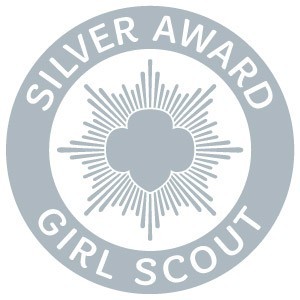 You can pursue your Girl Scout Silver Award if: 

You're in sixth, seventh, or eighth grade (or equivalent)



You're a registered Girl Scout Cadette 
 

You have completed a Cadette Journey
 

Girl Scout Silver Award Steps
 
BEST PRACTICE:  Watch the Silver Award webinar before you begin. These sessions are for girls, leaders and parents.


Identify an issue you care about
 

Build your Girl Scout Silver Award team or decide to go solo
 


Pick your Silver Award project
 


Make a plan and put it into motion
 

Reflect, share your story, and celebrate
Ready to get started? Let's go!
Watch these brief info videos.

Girls (and parents or troop leader) watch the Silver Award Webinar
Silver Award Paperwork FAQ Video
How to Choose Your Take-Action Project
Paying for the Project: Budgeting and Fundraising
Having trouble coming up with a project idea? Attend one of our Idea Workshops! >>> See the workshops here
 
SILVER AWARD HELPFUL FORMS AND PAPERWORK


Need some help? Contact the Badgerland Team!