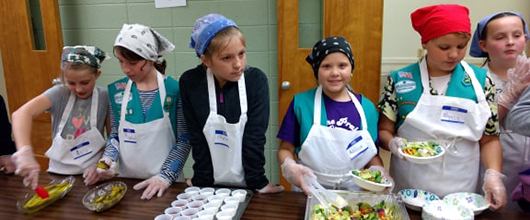 Troop Service Project Ideas
"Hands for the Homeless" Bronze Award Project Handbook
Troop 8308 created this video handbook for troops to learn how to give back to their communities. Watch the video above to learn more about their Bronze Award project, and how your troop can get started helping their own communities!
National Service Projects: Girl Scouts Give Back
From educating communities about food production and selling Treasury Bonds during WWI and the Spanish flu pandemic to planting victory gardens and training in first aid during WWII, Girl Scouts have always stepped up in times of need, and our current COVID-19 crisis is no different. All across our country and our world, Girl Scouts have leapt to the aid of others by engaging in wonderful acts of service and kindness. Now your troop can get involved too!
Learn how to get involved here: https://www.girlscouts.org/serviceprojects   
Community Service Directory
Look here for your troop's next community service project. We've put together a dynamic directory, constantly updated, with service opportunities appropriate for Badgerland Girl Scouts.
Know an organization in your community that would be great to be listed? Have them connect with us.