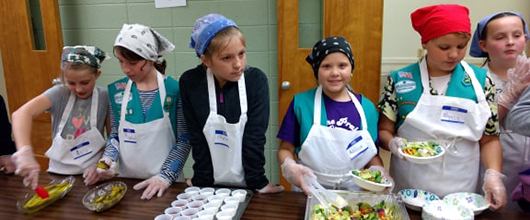 Troop Service Project Ideas
"Hands for the Homeless" Bronze Award Project Handbook
Troop 8308 created this video handbook for troops to learn how to give back to their communities. Watch the video above to learn more about their Bronze Award project, and how your troop can get started helping their own communities!
Girl Scouts Give Back: Letter-Writing Service Project
The idea is simple: girls write letters to people in nursing homes, senior residences, and assisted living facilities, including the dedicated staff and caregivers. This long-distance hug is a way to share your good thoughts with these vulnerable and loved community members.
Learn how to get involved here: https://www.girlscouts.org/serviceprojects   
Community Service Directory
Look here for your troop's next community service project. We've put together a dynamic directory, constantly updated, with service opportunities appropriate for Badgerland Girl Scouts.
Know an organization in your community that would be great to be listed? Have them connect with us.